I live Just under the surface of the world
I walk with you I laugh with you
But my world has more darkness
Like there is a film between us
That cannot be fully seen
But when we hold hands
We never quite touch.
The sun shines on me
I can see it
But I don't fully feel it's warmth
But it's ok
We can still share many things
And there are others with me
Just under the surface
Doing the same
And sometimes we meet,
And we can hold hands truly,
And we can share an experience fully
And we can sit in the darkness together
And that's beautiful.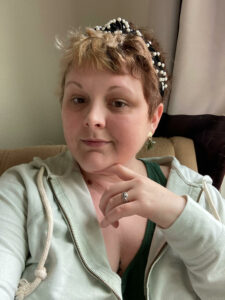 About the Author:
KR Cameron is a young adult breast cancer survivor, living in North Texas with her Husband, 5 cats, and a dog. Working part-time as a barista, KR and her husband also foster kittens full-time. When life is not being consumed by appointments and treatments, she enjoys reading, writing—especially poetry—fashion, and dabbling in many different types of art. Since conquering cancer, she has found writing to be even more than just art, but a way to communicate, cope, and connect with others through things we all feel, but have trouble finding the words to express. In spring of 2022, she was also diagnosed with Crohn's disease, after over a decade of tests and doctors unable to pinpoint exactly what chronic illness was wreaking havoc on her body. Now, armed with this knowledge, she continues to advocate for chronic illness, disabled young adults, inclusivity, and cancer research.
Organizations the author is associated with: The Breasties, The Texas Oncology Foundation