The internet has revolutionized how people connect, collaborate, and express themselves. With  more creativity, information, and inspiration than an individual could consume in a lifetime only a finger tap away, it's no wonder that this technology has impacted not only individuals, but entire communities. In fact, fandoms around pop-culture TV shows and movies often bubble up from the pools of the Internet  overnight, and spill over into water cooler conversations, and mainstream media. Other communities are slow to grow online, but once they do, they stretch themselves out and linger, like a vine spreading and spreading until it's a lively jungle covering thousands of acres of the Internet.
Regardless of whether these communities blossom and bloom, or simmer slowly, they're led by passionate leaders who shape and influence the direction of their community. The multitude of online health communities are no different. For individuals living with a chronic illness, mental illness, or disability, the internet is a powerful tool for connection, education, and advocacy. We're highlighting just a few of the standout individuals who are making a difference online and offline, through their creative and informative work. If you're looking for an influencer to follow that will bring new insights and support to your health journey, consider these five virtual ninjas.
Diet and nutrition are perpetually hot topics in the world of health, and increasingly so, with new research revealing the importance of diet in overall health in unexpected and interesting ways. Topics from gut health and the connection to the brain to the effects of various nutritional plans on a complex illness and health conditions flood online communities. However, such an expansive subject area can often invite confusion and misinformation. It's important to ensure you're getting your information from verifiable and legit individuals and sources. @Staceynellc_rd is a patient and registered dietitian nutritionist who combines her lived experiences and compassionate personality with her professional expertise, to provide relevant and timely information of countless areas of nutrition. From food-related quality-of-life issues to the j-pouch experience, to the roles of macro and micro nutrients, and everything in between, @Staceynellc_rd provides nutrition expertise that compliments the overall patient experience and lifestyle. With these nuggets of wisdom served straight up, following her page can't be missed!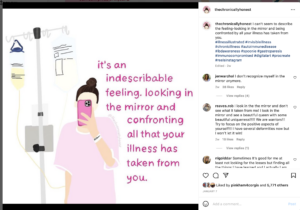 Across the patient community, there are a variety of ways for patients to advocate, from long-form blog posts that delve deep, to quick videos that enlighten. Art permeates online, with so many talented artists using social platforms to share their work. @Thechronicallyhonest is no different and even takes it to a new level, using Instagram to showcase creations that illuminate the realities of the chronic illness experience in a profoundly intimate and "honest" style. From illustrations that speak to the struggles of fatigue, isolation, and the tragedy of illness, to other graphics that educate others of the unseen nature of invisible illness, @thechronicallyhonest's candid approach to advocacy online is captivating and endlessly "share-worthy." Follow @thechronicallyhonest for content that speaks deeply on the nature of illness and health in with a uniquely eloquent flair.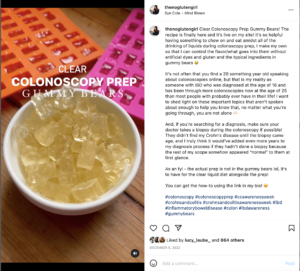 Working around dietary restrictions can be difficult, especially if you're new to the experience, embarking on the journey alone, or both. Thankfully, the Internet and social media is stoked full with a feast of recipes, culinary blogs, and influencers. However, less common are the bloggers and chefs who cater to those adhering to a specific nutritional regimen. Enter @thenoglutengirl who adorns social media feeds with delectable, colorful, and flavorful reels and photos of her very own recipes. In between culinary posts, you'll find the occasional serving of content capturing the chronic illness experience. For inspiration, support, and encouragement in adhering to a gluten-free diet or simply to add some spice to your feed, follow @thenoglutengirl.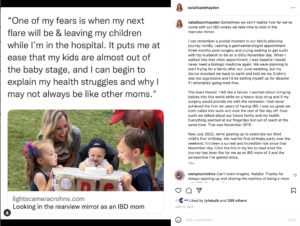 With a community as expansive as the chronic illness crew, it can be hard to keep up with all of the individuals who are advocating from within, keeping in tune with the latest healthcare news and policies. @Natalieannhayden not only writes blogs on a variety of topics relating to the chronic illness experience, she takes it a step further by documenting countless individuals and organizations working to transform healthcare through impactful and powerful interviews. Her unique blend of personal lifestyle content as well her investigations into various health topics and research can be found on her social media platforms and also her blog "
lightscameracrohns.com
." With so much experience exploring the wide world web of online and offline, @natalieannhayden is an essential follow for staying up to date and in the know about countless important health topics.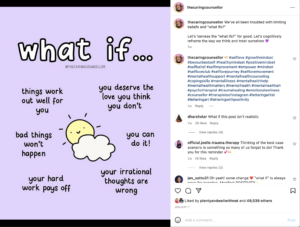 We're increasingly learning and understanding more about the connection between mental and physical health. When you're living with a complex or chronic health condition, it's natural to experience a wide range of emotions, and to encounter challenges that induce stress. In addition, chronic illness, and health in general, can be an incredibly isolating experience, which can make it difficult to manage your mental health alongside of all of the other challenges and responsibilities that come from adult life. @Thecaringcounsellor is a counselor, psychotherapist and teletherapist, as well as a disability advocate and digital artist, who creates compassionate, visually comforting, and refreshing social media graphics and content that focuses on mental health and ways to manage it. Her content highlights a holistic approach to mental health tips with gentle reminders to prioritize your health – mentally, physically, and socially.
These are just a few creative leaders who are advocating for and creating a more inclusive health community. We hope you'll give each of them a follow, and support all of the other individuals who are making a positive impact online and offline in your life!
Written by Digital Content Specialist, Grady Stewart