My name is Nicole Wilson, and I'm a member of the primary immunodeficiency (PI) and rare disease community in Pittsburgh, Pennsylvania. As a mom of a very active and energetic little girl and German Shepherd, when I'm not involved in dynamic discussions and reenactments of unicorns and princesses, or playing fetch; I enjoy yoga, meditation, spending time with my family, listening to all sorts of podcasts, and making desserts! The other part of my life is spent working in Human Resources as a Manager of Talent Development for a company headquartered in Pittsburgh so I spend my days helping people navigate their career journeys.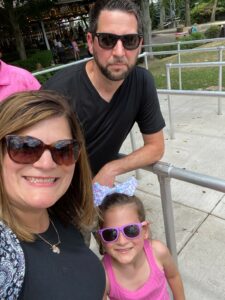 Diagnosis Journey
My journey to discovering PI began in my early twenties and ended in my late thirties – nearly twenty years. Twenty years of always being sick with some sort of sinus infection, developing bronchitis more frequently, realizing the pain of ear infections as an adult, and dealing with the effects of a variety of GI issues plaguing me most of my adult life.
At 39, timed with the start of the COVID pandemic, I was diagnosed with Common Variable Immunodeficiency (CVID) and dove head-first into the new world of Primary Immunodeficiency (PI) and the rare disease community. As a treatment for Common Variable Immunodeficiency (CVID), I receive monthly immunoglobulin replacement therapy (IVIG) derived from plasma, replacing the protective antibodies missing in my immune system. Without these treatments, I would be prone to recurring and severe infections. Chronic disease doesn't begin and end with treatment. For me it began twenty years before treatment, and my disease did not end with treatment. In fact, I will need to have IVIG treatments every, single, month for the rest of my life.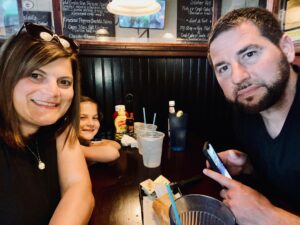 Life-Giving Treatment
However, what it does give me back is miraculous. It gives me back my life. IVIG allows me be active and present in my family's life and my daughter's activities, and keeps me safe and healthy. Plasma donors are truly my heroes!
For those donating the first time, you are about to join a special club, one made up of people unselfishly giving of themselves to help total strangers!
This doesn't go unnoticed, and each time I meet someone who has donated plasma I am moved to the core by their desire to give their time and plasma to help people like me. Each month when I receive my IVIG I am so grateful for total strangers allowing me to be an active part of my daughter's life. The value of which is immeasurable to me and my heart, and to my family.
Through volunteering with the Immune Deficiency Foundation, I began connecting with other members of the PI community and began to use my voice and experience to advocate for others with rare diseases like PI. All the steps I've taken on my personal journey led me to where I am now — in a place where I am able and equipped to give back, advocate, and make a difference for others like myself! 
Plasma Donation Information
Drive: Sunday, December 4, 2022 thru Saturday, December 10, 2022