Living with invisible disease often has consequences that can be embarrassing to talk about. In advocacy, even when legislation is passed, it is often simply a first step. Social acceptance and awareness can be a separate movement all together. For patients with Crohn's Disease or other digestive disorders, access to a restroom is a human need, and responding to that need is simple human kindness.
Infusion Access Foundation is a PROUD partner of the Chron's & Colitis Foundation's Open Restrooms Movement.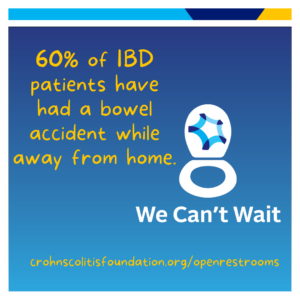 Find out how to join this inclusive pact between restaurants and those impacted daily by the uncomfortable inconveniences caused by invisible disease.